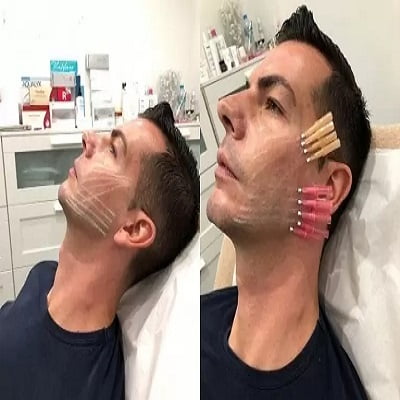 A threading facelift is swift and less invasive, and at the same time, it can achieve imaginary results. In this procedure face, neck, and other areas of the body can be lifted and tightened in just one session. The hassles of surgery are avoided with this procedure as there are no incisions, no general anesthetic, and no long recovery period. With this fast and simple treatment option, you can achieve a young-looking complexion without any scars.
Natural, Long Term Results:
A facelift without surgery stimulates the production of natural collagen and elastin which is beneficial for the skin to achieve a brighter, younger, and healthier look for a number of years to come.
Suitable For Most Men and Women:
It is an affordable substitute for a regular facelift because it is a non-surgical, simple, and effective solution to the undesirable signs of aging for most men and women. The rejuvenating benefits of a thread facelift can benefit people from 25 years old and upwards. Your healthcare provider will help you in order to determine the suitability for PDO threading at your initial consultation.
Benefits of a Face Thread Lift:
If you are looking to benefit from a thread lift procedure then you are not alone. Thread lifts adore a well-deserved status as the perfect way to create a refreshed, more youthful appearance without having to undergo worryingly invasive surgery. There are quite a lot of significant reasons that you may want to consider before getting a thread lift over a regular facelift. Some of those benefits are as follow:
Immediate Results:
When you have a facelift surgical procedure, it can often take weeks or months before you can see the results. Most people love a thread lift because you can get almost instant results. As soon as you are done with your procedure, you will have a tighter and more youthful-looking face. Dissolvable thread is inserted and deliberately positioned under the skin. Then these threads are pulled upwards to lift the face.
Quick Recovery:
When you go for regular facelift surgery, then you will be requiring a heavy recovery time that most of the time involves a lot of discomforts that can last up to several weeks. But with a thread left, there is virtually no recovery time, you can in fact walk in for your procedure at lunchtime and then have met up with your friends at the dinner on the same day.
Tight, Youthful Skin:
Thread lifts help to stimulate the production of collagen in the body, which results in more youthful-looking skin. In addition, the treatment helps you in removing the wrinkles and eventually giving you an overall smoother appearance. The areas of your face where the threads are placed will witness a sharp reduction in wrinkles and fine lines.
Lasts a Long Time:
Despite the fact, a thread lift is a relatively quick procedure, but its results can usually last as long as a year.
Other benefits of thread lift treatment might include:
Rejuvenated and younger-looking skin
Reduces fine lines and wrinkles
Improves skin elasticity
Brightens the skin tone and texture
No scarring
Defines facial contours in a better way
Stimulates the production of collagen and elastin
Natural results
Thread Lift Treatment at SKN Cosmetic Surgery Clinic:
Are you ready to get smoother, brighter, and younger-looking skin with a non-surgical facelift, then you must go for a thread lift treatment because it is the best and economical alternative to a surgical facelift. Once you have decided on the treatment, then you must consult one of our best cosmetic surgeons at SKN Cosmetic Surgery Clinic. Our trained professionals will provide you all the information regarding the procedure, cost, and other related information before the start of the procedure.