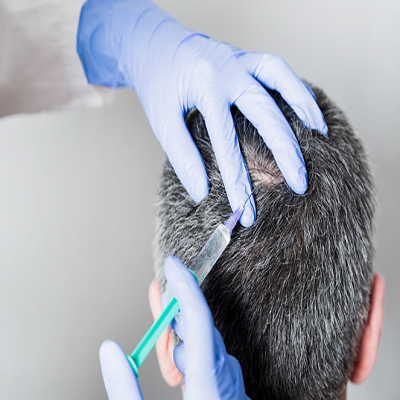 Globally, many people have faced unwanted hair loss and hair fall while taking shower and brushing. Still confused about the solution as some people prefer to have minimally invasive procedures and some of them have a preference to get surgical treatment. But you can't decide what is best for you until you don't know the reason for your hair fall.
However, it is necessary to choose an expert hair specialist who will let you know about the cause and recommend you a suitable treatment. You will learn all about PRP Treatment For Hair loss as well as the purpose of PRP and much other helpful information. So, keep reading!
What Is PRP Therapy?
A type of procedure that is used to perform in three steps, extracting blood, proceeding and injecting it into the head is known as PRP therapy for hair loss. PRP stands for platelet-rich plasma that is formed from your own blood. It is an injectable treatment that is recommended by an expert for hair loss as they believe that PRP therapy prompts hair growth naturally and keep the blood flow to the hair follicles and makes them thicker in texture. However, it can be performed in multiple sessions after 4 to 6 weeks separately.
How Does It Work?
According to SKN cosmetics, it is used to perform as the practitioner will extract the candidate's own blood from the arm and fill it into the container, after that the container will be put into the centrifuge (A machine that rotates the object continuously) for 15 minutes. When the blood elements get separated, the plasma will be extracted and filled into a syringe.
After that, the plasma will be injected into the scalp areas where a candidate desire to have thick hair growth. However, the duration of one PRP session may take 20 to 30 minutes or it depends on how many areas you need plasma on the head.
The Result:
The outcomes after the PRP Hair Treatment are effective but it depends on person to person. Everyone is different; the results may depend on the health of undergoing candidate's plasma level and hair texture. It is necessary to take a number of sessions according to your hair loss condition and inject them accordingly. Somehow, it is necessary to wait until your hair growth becomes speedy and you will see changes after 6 weeks. So, choose an experienced practitioner and follow the sessions that your practitioner recommends.
Benefits:
Generally, there are a lot of benefits that can be obtained after PRP treatment; some common benefits are mentioned below:
It is a non-invasive and injectable treatment.
The best solution for thin hair texture.
You can choose PRP for excessive shedding.
It can reduce the early stages of baldness.
Your own blood plasma will be used.
No major side effects and complications.
Effective output for hair growth.
Suitable for both genders.
Is It Effective For Hair fall?
The most important thing before considering any treatment is to talk with your specialist. One of the most frequently asked questions for hair treatment is "PRP Treatment For Hair loss" Yes, it is effective for hair loss but it can be chosen at the very initial stage. Somehow, if you are completely bald or suffering from a medical condition like alopecia areata then it is not suitable for you. A hair transplant might be a permanent solution to hair loss and baldness.
Cost of PRP at SKN Cosmetics:
The average Cost of PRP hair loss treatment in Islamabad ranges between 13,000 PKR to 20,000 PKR per session. It depends on different concerns and reasons and there are a few factors that can affect the cost of the treatment, such as:
Expert Practitioner's Fee.
Reputation and location of the clinic.
Number of Sessions.
Additional supporting charges.
Furthermore, if you want to get proper information related to the cost of treatment according to your concern then contact us or visit our clinic for helpful information.
All Summed Up!
Therefore, if you want to consider PRP treatment for your hair fall problem then choose SKN cosmetics for successful and result-providing treatment. We are providing this treatment at a very reasonable cost as compared to other expensive clinics. So, visit our clinic and talk about your concern with our experts!